Asus Eeepc 1001cx 10.1 Screen Replacement
We need your help to identify the screen inside this computer. Please read the instructions below, which will tell you how to obtain the LCD screen part code fitted to this machine.
Do I need a new Asus EEEPC laptop screen?






We require your assistance

The laptop manufacturer has fitted more than one type of screen to this model that are not interchangeable. For this reason we require your assistance to help you identify the correct replacement part.

What information is required about my asus eeepc 1001cx?
We need you to remove the laptop screen display panel from the lid of the asus eeepc 1001cx laptop. Once you have done this, you can supply the model number for your LCD screen using the easy and fast contact form below, and we will send you a quotation for the correct replacement. You should start by watching this short video tutorial, this shows you how to remove the LCD screen. The process takes around 15 minutes.

Why is this information required to buy a asus eeepc 1001cx?
Because there are variations of this particular screen for the model asus eeepc 1001cx, we need to verify details with you before you purchase. We take this measure with some models of screen that can be problematic to ensure you receive the correct product first time.

Where will I find the screen model number?
On the back of the actual display screen inside the lid of your asus eeepc 1001cx laptop, once this is removed from the lid, you will notice the model number printed on the back of the screen. Be careful to let us have any suffixes or revision numbers after the main part number as well. We have given some examples below to help you identify the model number on your particular screen.


Identifying the screen model number in a asus eeepc 1001cx

Once you have removed the old screen from the asus eeepc 1001cx laptop, you will be able to identify the screen model number. The model number is usually the boldest or largest text on the main sticker, as in the example below.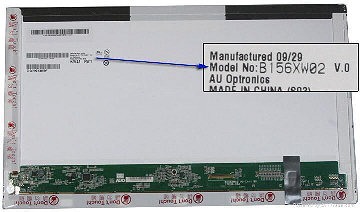 | | | | |
| --- | --- | --- | --- |
| Screen manufacturer | Model starts with | Example | |
| | | | |
| AUO / AU Optronics | A, B or G | B156XW02 V.1 | |
| | | | |
| BoeHydis / Hyundai BOE | HV or HT | HT140WXB-501 | |
| | | | |
| Chi Mei | N | N17306 L02 | |
| | | | |
| Chunghwa | CLAA | CLAA140WB01A | |
| | | | |
| Hannstar | HSD | HSD100IFW1 A00 | |
| | | | |
| Hitachi | TX | | |
| | | | |
| ID Tech | IT or IA | ITXG77C | |
| | | | |
| Innolux | BT | BT140GW02 V.9 | |
| | | | |
| IVO | MT | M101NWT2 R2 | |
| | | | |
| LG Philips / LG Display | LP | LP101WSA TL A1 | |
| | | | |
| Quanta | QD | QD15TL07 | |
| | | | |
| Samsung | LT or LTN | LTN156AT02 | |
| | | | |
| Sharp | LQ or LM | LQ164M1LA4A | |
| | | | |
| Toppoly | TD | TD141TGCK1 | |
| | | | |
| Toshiba Matsushita | LTD | LTD133EXBY | |
Get a quote for Asus Eeepc 1001cx Screen Replacement
Asus Eeepc 1001cx Replacement Screen Quality Promise


Laptop-LCD-Screen.co.uk guarantee you a working Asus Eeepc 1001CX screen replacement, or your money back. With our 15 years of trading experience, we can warrant that claim with real expertise. If you research our company, you will encounter our impressive accumulation of fantastic reviews on sites like Trustpilot and Google.
Glass finish
Asus Screens can be manufactured in MATTE or GLOSSY finish. MATTE is better for outdoor use and GLOSS is better for indoor use. GLOSS screens will display brighter and richer colours, and MATTE screens will look duller, but are less reflective. We try where possible to offer both options, if we have both options, we will offer them in the product description. More about this...
Screen size measurement
We always list the size of the screen to help you determine which product is right for you. Screen sizes are measured diagonally, from corner to corner, of the visible display area only. The measurement does not include any frame (or bezel), just the area that lights up and is part of the display area. More info about this...
15 years' experience
We have the largest screen replacement database on the Internet. In addition to this, you have peace of mind that we have many years of trading, during which time we have accumulated a wealth of knowledge, which enables us to provide the right screens, first time. The long time we have been established has also enabled us to build sterling relationships with top manufacturers like AUO, ChiMei Innolux, Samsung, Hannstar, Toshiba, LG Display, Sharp, BOEHydis Hundai, and others.

Better quality screens
We insist on higher grade Class I panels, (note that there is no such thing as a Grade A screen). We pay a little more to ensure our products impress and please every time, and give a long working lifetime. With more than a decade of experience our team will ensure your high quality replacement screen is as good - or better than your original display, and that the whole process from purchase, through the delivery and to installation, is seamless. And this promise is endorsed by our customers.
Get more help