We've simplified how we offer you wholesale products!
We've ditched the restrictive "package deals" that we used to offer, and now you can get wholesale pricing on absolutely any, of our quarter of a million screen parts.
Getting wholesale prices is simple. You just need to order 10 of any one product on our website, and the wholesale discount will be applied automatically. We only offer wholesale pricing on 10 or more of the same product. Start by adding 10 to the cart, then you can go back to the product page, and add as many more as you like to your wholsale pack of 10.
Step 1: Find a product
In this example, we're going to choose a pretty popular 15.6 inch FULL HD screen part. At £33.43 each, 10 of them would normally cost £334.30. From the pull down menu on the product page, we choose a quantity of 10, like so;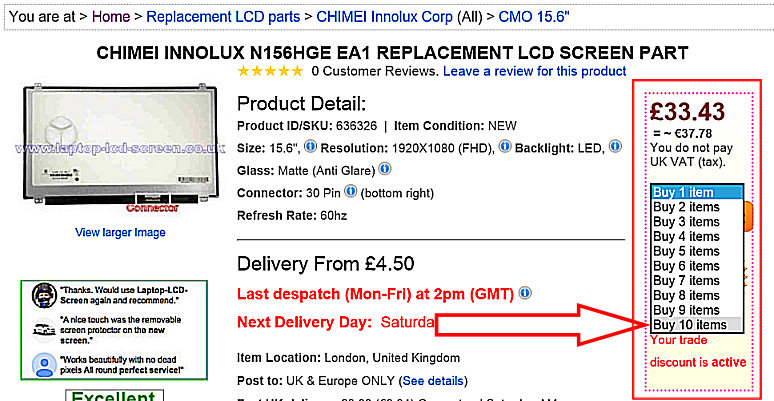 Step 2: Press the ADD to Cart button
Once you have chosen a quantity of 10, simply press the Add to cart button.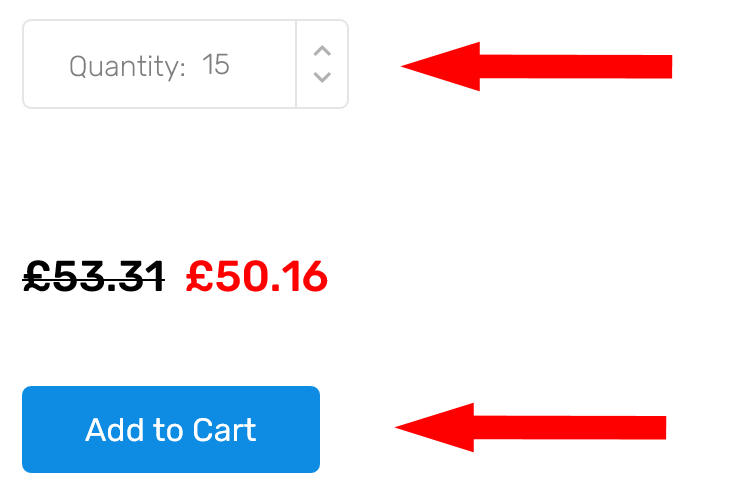 Step 3: Checkout or continue shopping
Your package of 10 has been added to the cart. Instead of the usual price of £334.30, these have been added at wholesale cost, £294.33 or £29.43 per screen.
Things to remember:
To get the best wholesale pricing, first setup a trade account, and login before adding 10 to your cart.
You can also get the VAT removed if you are a business outside of the UK, and hold an EU VAT registration number. Apply here
These wholesale prices, are for packages of 10+ only. To add another package of 10 different screens, or say, 3 more of the same screen type, to your existing package of 10, (making 13 screens), simply repeat this process, returning to the product page and adding more screens to the cart.
You can add as many packages of 10 as you like, for one screen type, or different screen types. You can mix these up in your cart with other screens purchased at normal prices.
Finally, remember, we always send products in plain packaging, so you can use our wholesale service to drop products straight to your clients.
Why buy wholesale?
The LCD screen industry is booming and you may be looking for ways to startup or expand an existing business based around this boom in LCD technology. The most popular market at the time of writing is the replacement laptop and tablet screen market. In the past 2 years, many organisations have seen the potential boost of clients that offering laptop screen replacement services can offer, but where do you start when looking for options to buy more than just 1 screen?
Why buy wholesale from us?
China is the obvious choice if you're looking to purchase a stock base of popular replacement LCD screens. One has to consider also the consequences of purchasing from China, which would include the lack of legal support from Europe should something go wrong with your transaction. The Chinese sellers are riddled with fraudulent activity who are keen to give you great prices and promises of hard to find stock, however you need to be aware that we have come across many people who have received different products to the ones ordered, and most often 2nd hand or reconditioned panels. Many Chinese sellers will offer you GRADE A+ guaranteed screens or even promise to hand inspect panels, however the reality is often very difference; and in fact there is no such thing as a Grade A+ screen. What will you do if you order an B156XW02 v.4 and get sent an LTN156AT02, or LTN156AT05 and find that it doesn't work properly in Toshiba laptops? As payment for the goods is by bank transfer only prior to shipping, you're not left with much of a leg to stand on legally. A bad buy could leave you stuck with tens of thousands of pounds of stock, that you cannot sell.
Safer options for wholesale purchases
Although more expensive, it is always safer for you to deal with companies within the European Union. Not only are you protected by the banks when making payments via credit or debit cards, you're also protected by many European selling laws, and of course most EU suppiers will help you with the right compatible models of LCD screen for your application as it's not in their interest to sell items that may cause you compatibility issues. So it's always a good bet to deal with a company locally for these reasons.
The replacement screens will cost slightly more than a purchase from china due to the following reasons:

The importer will have paid freight and import tax to the UK government (20% currently).
exchange rates for the US Dollar. The cost of the US Dollar affects the final cost of the screens as purchases are always made in USD.
The grade of screens purchased. Although many sellers outside of Europe promise Grade A+ (there is no such thing as an alphabetic grading standard for screens; they are classed with numbers, zero being the best), the reality is that screens are often not new or lower class stock which means a high level of defects such as dead pixels. We adhere closely to ISO 134062 and supply high quality screens only.

More reasons to buy within Europe


Your invoice. You won't be able to claim any VAT and your invoice may be in another currency if you purchase LCD screens outside of the European Union.
Support and payment. Paying companies within your continent is easy and secure.
Technical support. It is always important when selling highly technical items such as replacement laptop screens to make sure that you have some kind of support backup. You'll often come across technical problems, compatibility issues and you'll need a supplier close that can swap out screens for you for different models as and when you get a problem. This can be tricky if the supplier is in China and speaking to you with the Google Translator :)
Supporting your local community. I hope we don't need to explain that ;)
Conclusion
As with any business venture, it's imperative that you find good partners to deal with. Your supplier will reflect heavily on you. A bad supplier or bad products will mean lost clients, and business, like everything in life is all about building good relationships.
Good luck!